We are editing this page to offer you practical informations and exclusive advises about some of the best practices regarding how fixing, using and taking care of your hammock or hanging-chair.
Most of the solutions we are presenting in this page and our blog articles are inspired by the native people of Central America. We are presenting those tips and tricks to assist everyone interested in hammocks and hanging-chairs. The most important for us is to help you realizing how simple it can be to use and hang a chair or a hammock in or outside your house.
The ideal position(s) in a Hammock
Is it really better to lie down across in a hammock? We couldn't tell you that this affirmation from some specialists is totally wrong. From our side, we however prefer to tell that there are a few correct ways to lay down in a hammock. We are sharing this message because for us,
the freedom of choosing a position is one of the main advantage of hammocks and hanging-chairs
. There are only few furnitures that are not limiting you to extend yourself in a single appropriate position. A hammock is stretchable and it enables you to extend yourself. If you prefer, you can also wrap yourself like in a cocoon.  A hammock is
a furniture shaped to support your back ideally while laying down
. This is true because of the weight repartition. While taking a position across or along the hammock, the person lying down is generally extending the textile in an ideal way. This is not a rule and there are few relevant exceptions. For example in a hammock with bars, like our
Dreamcatcher Hammock
, it is rather recommended to lay along. This recommendation regarding this particular type of hammock is made because the way of maintaining the stability differs when their are bars.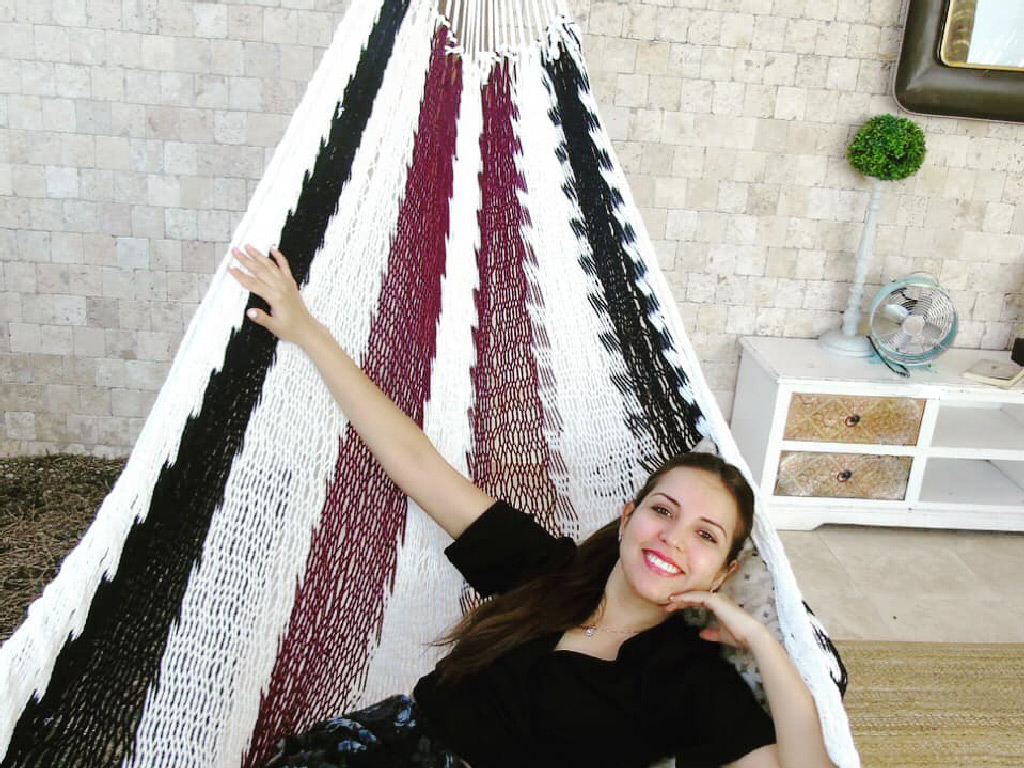 Fixing a hammock
A hammock is an easy to use and storable furniture for the home and garden. Our tips and articles should help those interested in acquiring a hammock to realize how easy it can be to extend and fold back a hammock. Outside the countries they are produced, like Guatemala, people are regularly saying such things about hammocks;
"Where could I hang it?", "we can only use it outside few days in the year", "how how much place do I need to hang it?"
,
"Should I ask for some professional advises before to hang it to that cement roof or ceiling beam?
". Those question are legitimate for some evident security reasons but they are often overrated. It is actually not that complicate, the main reason we do think different in western countries is because laying in hammocks is not a cultural tradition.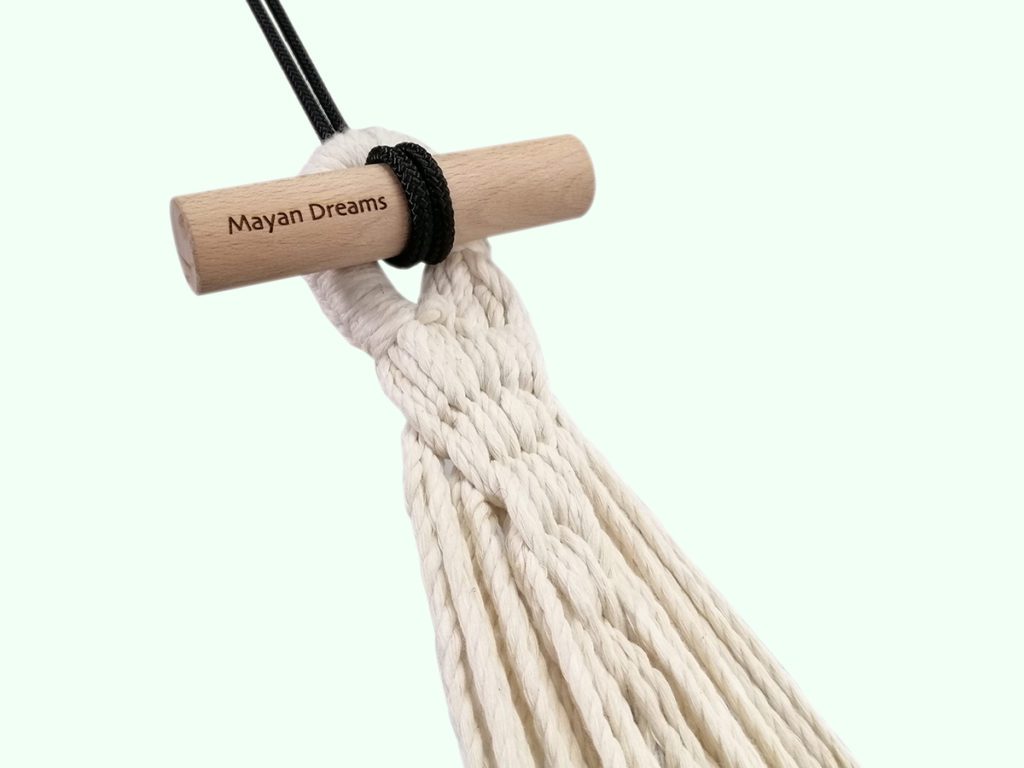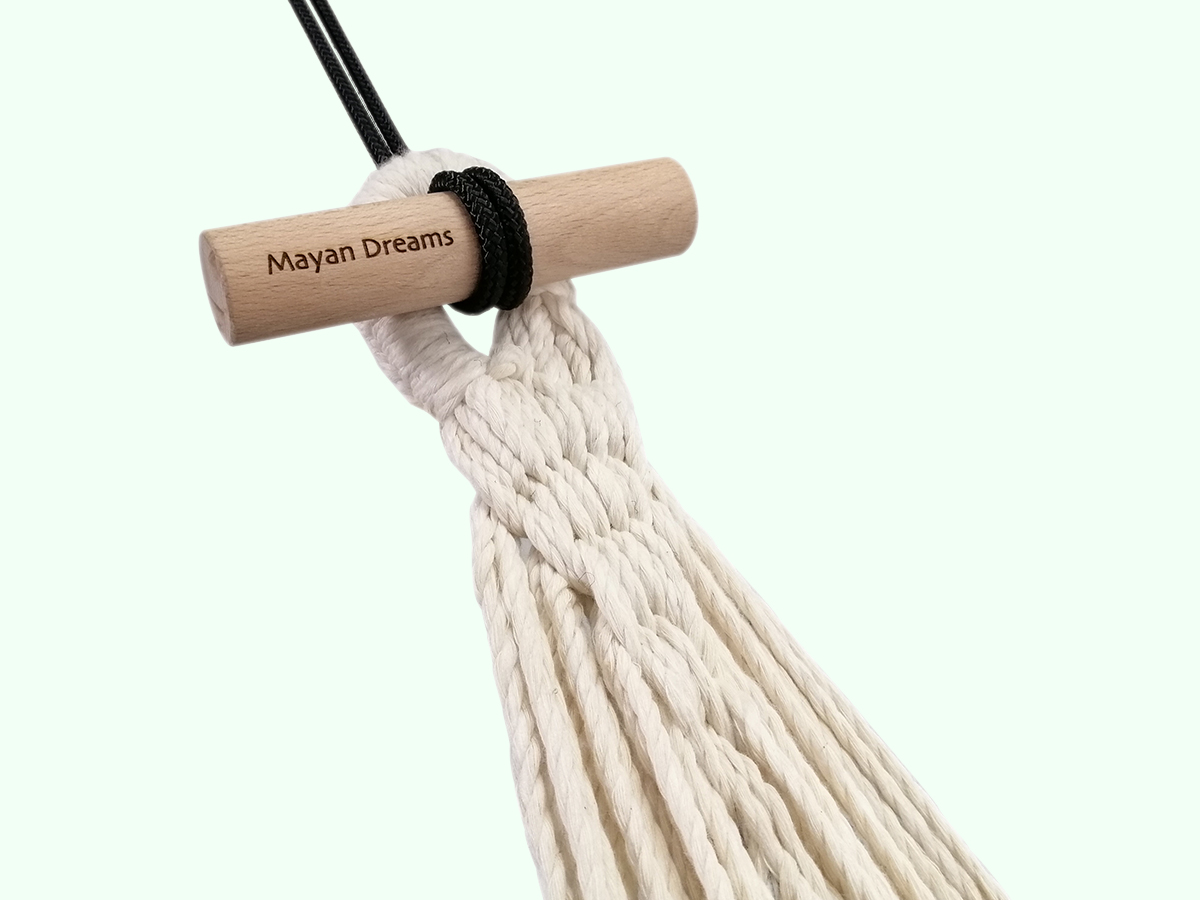 Where fixing a hammock in a house, a villa or a chalet?
Load-bearing walls and wooden ceiling beams are evident places to attach a hammock. Metallic, cement or wooden made structures, often present around terraces and pergolas, are also ideal examples of places where to hang a hammock to. While looking carefully, there are often more than one space where a hammock could fit around you. A hanging-chair can be better appropriate for a tinny space but the most important is probably to think about a hammock as a furniture you can store whenever you want to. Yeas, exactly, like you would do for a foldable camping chair or a lounge chair. When correctly mounted with a proper hanging solution including hooks, wall mount fixations, ropes and fasteners, mounting or folding your favorite furniture should not take longer as a minute.
Where fixing a hammock in a loft or a flat?
The recommendations are pretty much the same as the one we give for an house. While looking for a place for your hammock don't forget to take a look at the balcony. Balcony structures and ceilings are often ideal places for hanging a hammock. They are also perfect locations to enjoy the sun and relax. If this option is not to consider in your flat, don't give up or panic! Hanging a hammock in your flat without causing permanent damages should be possible. If the reason your are worried are the holes you have to make n the walls, don't forget that it's possible to cover them with some sealant. We are offering our own solutions to fix hammocks, like the kits and hanging elements we propose in our shop. The hanging technique we are recommending, only with ropes and two pieces of woods, is inspired by habitants from Guatemala.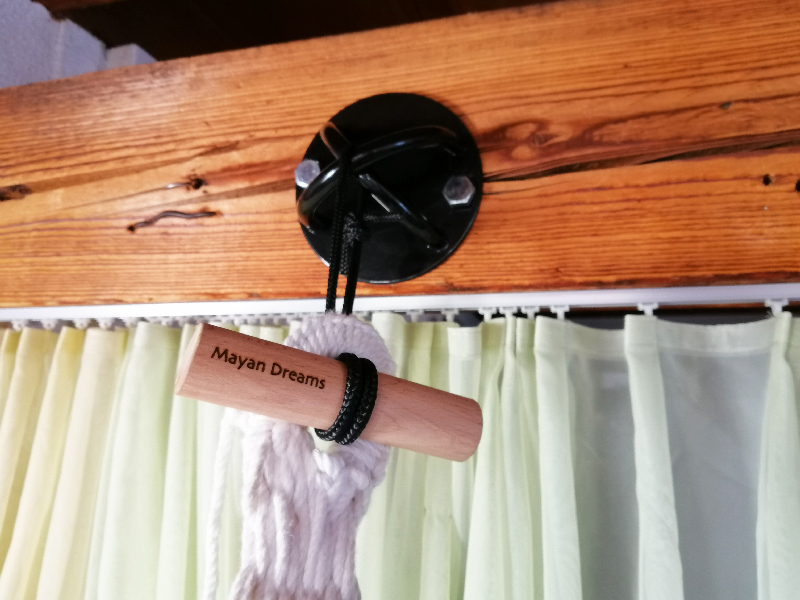 How to fix Hammocks correctly?
Preparing some precise marks and checking the ideal distance before drilling or mounting fixations is surely the first thing to do.
Our Ropes and Woods hanging kit is a reliable and ecological way of hanging your hammock
. It simplicity of use makes it good solution to hang a hammock inside a home or between two trees in a garden.  That is probably the reason why people from Guatemala are usually fixing their hammocks this way. We are also providing a wall mount fixations kit with steel anchors. They are nicely designed and one single of those wall fixations can be loaded up to 140 kg (280 pounds). They have a diameter of 12 cm and they include two pairs of screws.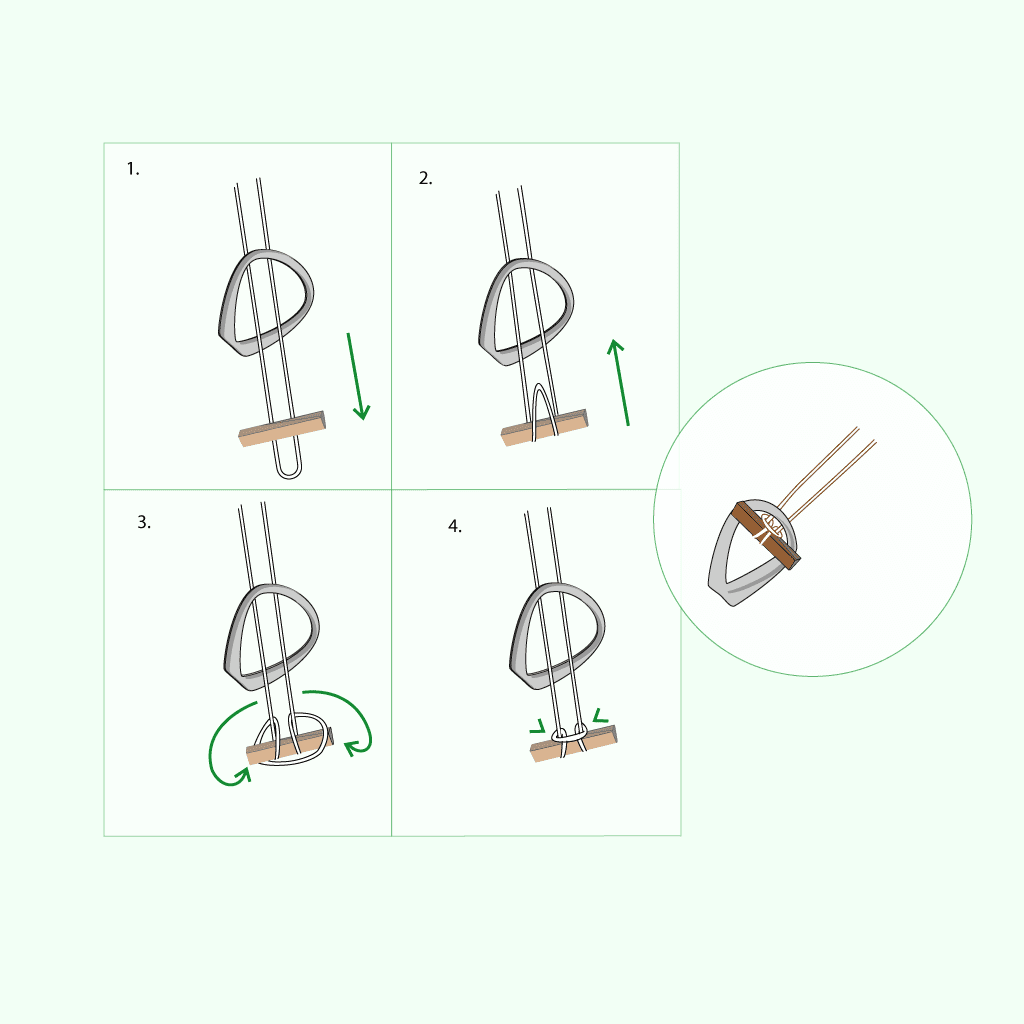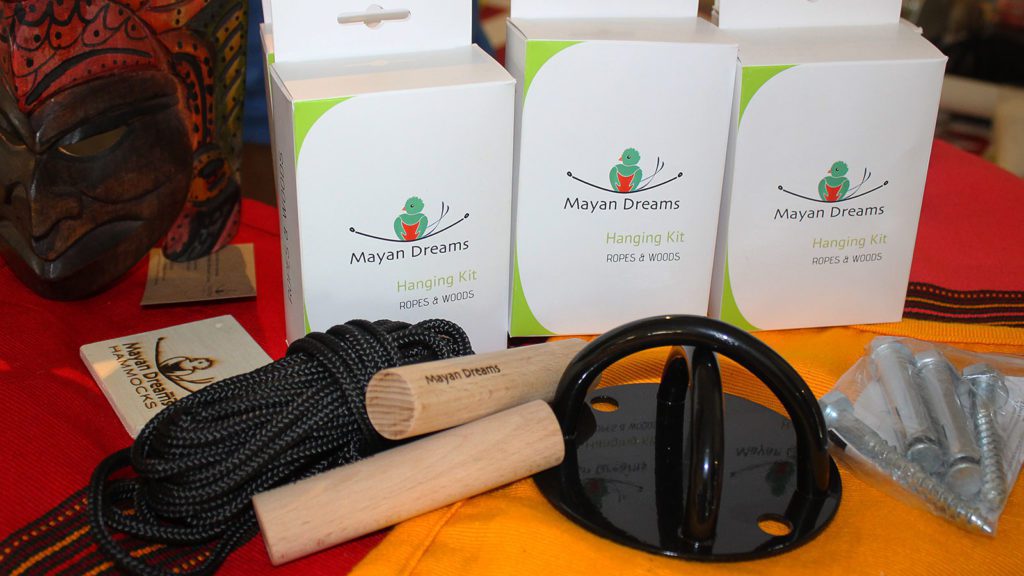 How much space to extend a hammock
The ideal distance may not always seem evident to define and few centimeters can make a sensible difference in terms of comfort. You will have to adapt it to your taste but it's generally ideal to apply a moderate tension. You will not necessarily need to have a space as big as the hammock is long to hang it.  Many tutorials indicate that the length should measure about twice the height (lenght = X  –  height = X/2). Such calculation is a good way to get an idea of the place you need. However, this ideal tension is something you need to feel, as it have to fit to your own body and expectations. It is often possible to shorten the support strings in both sides by loosing the knots and bringing them upper. Another solution, less esthetic but quick, is to make a big knot with those strings. So when you think your balcony is to small, don't give up but adapt it to make it fit!
What about a hammock stand?
It can be a great solution in some particular cases when there are no satisfactory alternatives. Even though, whenever it is possible,
we advise to avoid hammocks stands
. A stand can make it difficult to extend the mesh of your hammock properly. It will probably feel smaller, or even tight in comparison with laying in an identical hammock fixed between some walls or trees. Before to make the choice of a statical hammock stand, it is also important to consider that a hammock fixed on a wall can be removed within a few seconds, while a hammock stand may take some place for a long time in your living room or terrace.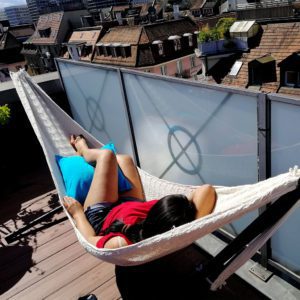 Fixing a hanging chair
To have a thicker rope, what can handle alone the weight the person sitting or laying in the hanging-chair, is an evident difference compared to what is necessary for fixing a hammock. For the rest, it's pretty much the same advices that have to be given. Of course for a hanging-chair, another difference is that you will have to
think vertically and accord importance at the weight that the ceiling or tree branch above you can support.
Like for hammocks, you may need to ask the confirmation of a professional. It is preferable to do so when you are not sure of the weight the chosen support can hold.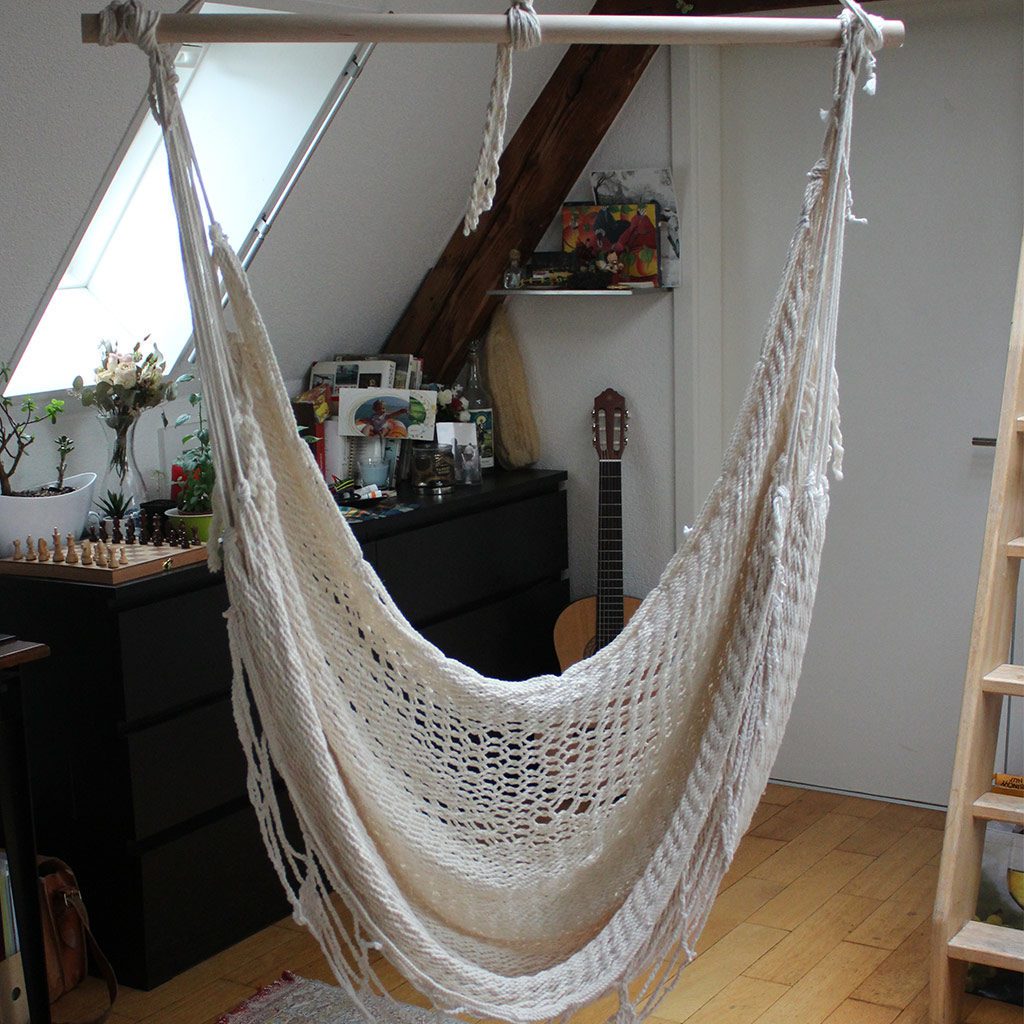 Taking care of your hammock
The first recommendation, if you are looking to keep your hammock intact for many years, is to
avoid exposing it to 
extreme
 weather conditions and bellow zero temperatures!
A hammock or hanging-chair should not be stored in a humid place that would probably favor moisture. The cotton bag we send our hammocks in is a practical packaging in more than one aspect. Such natural packaging allows you to transport and store your hammock without damaging the cotton fabric or net it's made from. Such packing material allow the hammock to breath. The last advantage of the cotton bag is that it is making it easy to wash your hammock. While washing a hammock this way, we recommend using the delicate program of the machine and not mixing it with clothes.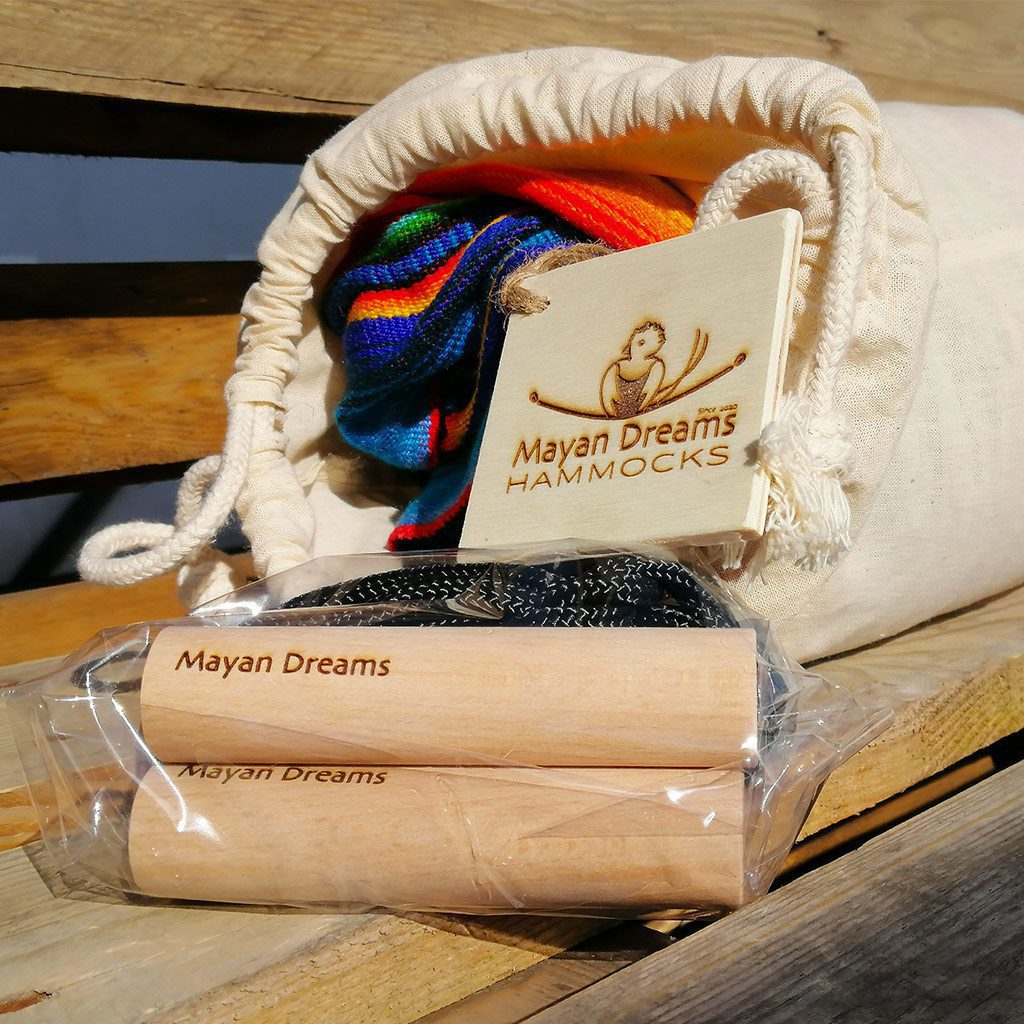 You didn't find what you were searching for on this page. Then we invite you to take a look at our
blog
articles and to register to our newsletter through the bellow form. Of course, you are also welcome to ask us your questions directly or to share your tips with us